In this article, we will see how to generate and download support logs from PowerStore using PowerStore Manager. These logs are mostly needed by Dell EMC Support staff to troubleshoot any issues that you may be encountering with PowerStore Appliance. The logs in PowerStore are referred to as Support Materials and can be collected either using PowerStore Manager or CLI.
Generate and Download Support Material Using PowerStore Manager
Step 1
Login to the PowerStore Manager.
Click Settings and go to Support Materials under the Support section

Press the

Gather Support Material

button. A new submenu appears on the right side.

The default options should be:

Description: Optional
Object Type: Appliances
Objects to collect data for: Select all appliances
Send materials to Support when finished: optional (requires SupportAssist)

Press Start.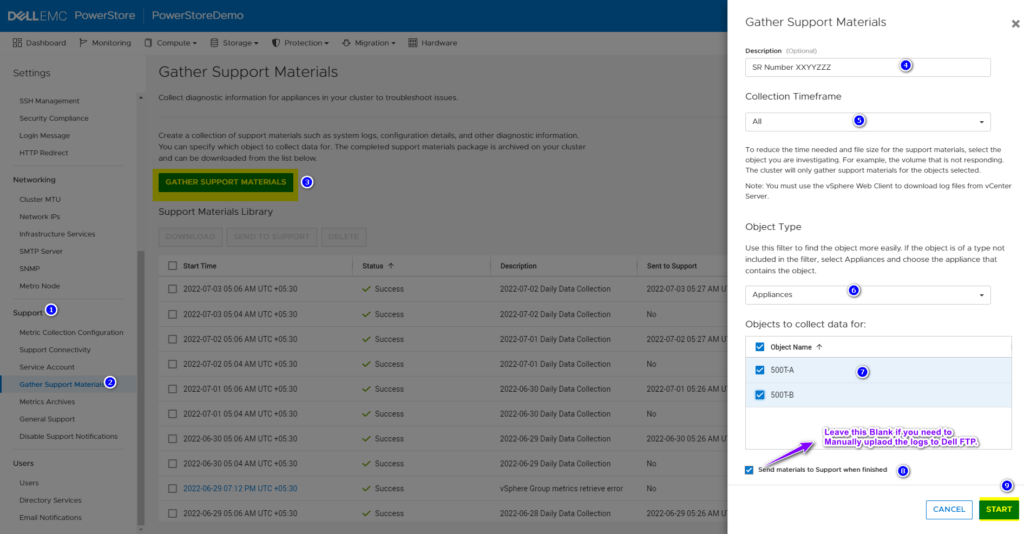 Step 2
Once the process above has finished, select the bundle that you want to download from the Support Materials Library under the Support Materials section.
Press DOWNLOAD or SEND TO SUPPORT
A submenu is displayed on the right side with a download link for each of the appliances.
Click Support material collection for all the appliances.
Generate Support Material Bundle from CLI on PowerStore (Support Logs)
Step 1
Login to the PowerStore system using the service user and password.
On the command prompt type svc_dc run -a A1,A2 to intiate the generation of support material bundle on the PowerStore system with 2 appliances.
To list the support logs generated type svc_dc list

Run the svc_dc list b3a42a8a (id) identified in the above screenshot to get more details.
Download the support material bundle using SCP, WinSCP, or PSCSP.
NOTE: It is recommended to download Support Material Bundle from PowerStore Manager. However, if needed as explained above CLI can also be utilized.
Generate and Collect Support Logs from PowerStore using PowerStore Manager- Step by Step Video