In this article, we will look at how to map the volume to a host in PowerStore using PowerStore Manager. It is possible to map a volume to a single host or multiple hosts.
If you have to map a volume to multiple related hosts (Cluster) then you might want to create a host group and then map the volume to it. This will make volume management easier for you. As, when you map a volume to a host group, the volume will be mapped to all the hosts in the host group automatically.
Restrictions of Volume Mapping to Host
After a volume is mapped to a host, it shares the same storage protocol (SCSI or NVMe) as the host to which it is mapped.
Mixed protocols are not supported.
Map volumes to a host or host group using PowerStore Manager – Step by Step
Step 1
Login to Powerstore Manager
Click on the storage tab
Click on Volumes
Select the volume you wish to map to the host/host groups
Click on Provision
Click on MAP to open the Map Volumes slide-out panel.

Step 2
Click on SCSI for iSCSI/FC and for NVME host select NVME.
Select the host you wish to map the volume to.
Optionally, select LUN id or leave it to default for auto selection.
Click Apply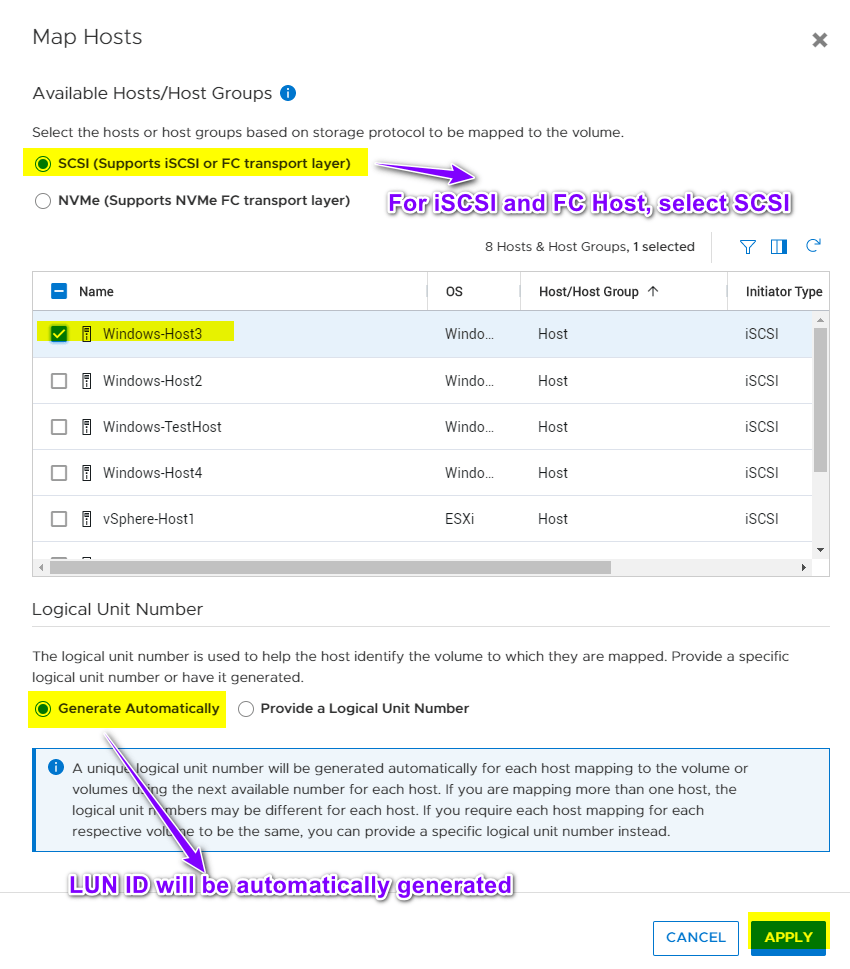 Alternate Track – Map Volume to Host Using PowerStore Manager
From Compute > Host Information, check the box next to the host or host group to which you want to map volumes.
Select Provision > Map to open the Map Volumes slide-out panel.
Select one or more volumes that you want to be mapped to the host or host group.
Select whether to provide a Logical Unit Number or have one generated automatically.
Click Apply.