In this article, we will see how to add an NVMe host to PowerStore using the PowerStore Manager. There are some best practices and guidelines provided by DellEMC while connecting an NVMe host to PowerStore and it is important that we follow these guidelines. For a complete list of recommendations from DellEMC please read the host connectivity guide or E-LAB interop navigator.
NVME Connectivity Considerations
Connect each PowerStore Node and Host to two separate fabrics.
Link speed should be consistent across all paths to the Powerstore cluster per single host.
For NVMe/FC – use PowerStore NVMe WWN
Use a single initiator zoning scheme, using port WWN: Utilize a single-initiator per multiple-target (1: many) zoning scheme when configuring zoning with a PowerStore cluster.
The maximum recommended path per volume per host is 8.
Recommended number of paths per volume per host is 4.
Maximum ISL Hops is 2.
Minimize ISL traffic by connecting the host and PowerStore to the same switch.
Balance the hosts between the nodes of the appliance.
NVMe/FC requires NPIV to be enabled at the switch level (NPIV is enabled by default on PowerStore FC ports). If NPIV is disabled on the switch and the administrator wants to enable NPIV on the port for NVMe/FC to work, it is required to disable and then reenable the port at the switch.
Read Here: How to add FC Host to PowerStore
NOTE: These are just the important recommendations for fiber channel connectivity to PowerStore. For complete recommendations, please see the DellEMC host connectivity guide.
NVMe-oF Considerations
The NVMe over Fibre Channel (NVMe/FC) protocol provides connectivity using the same
Fibre Channel ports, but can decrease the transport latency between PowerStore and the
host. Note that all parts of the network, including switches and HBAs, must support NVMe
over Fibre Channel.
The following is a high-level list of concepts and key features of PowerStore with NVMe-oF:
NVMe Subsystem

An NVMe Subsystem usually represents a storage array (except for a discovery subsystem).
A PowerStore cluster (Federation) is considered a single NVMe Subsystem.
NVMe-oF is supported on both the PowerStore T model and PowerStore X model models.

NVMe Front-End Ports

NVMe Front-End ports are the target ports capable of NVMe-oF.
On PowerStore, all FE, FC, and Ethernet ports are capable of NVMe-oF.
When you create a storage network, the NVMe/TCP purpose must be manually selected to work with NVMe/TCP.

NVMe Qualified Name (NQN)

Uniquely describes a Host or NVMe subsystem for identification and authentication.
This value can be modified (depending on the operating system) to UUID based or to hostname based.
The value must comply with NVMe Express Base Specification, chapter 4.5 (NVMe Qualified Names).

Namespace

A Namespace is equivalent to a Logical Unit (LU) in SCSI world, and represents the data written to a PowerStore volume.

A volume can only be mapped to either an NVMe host (or host group) or to a SCSI host (or host group).

Namespace ID (NSID)

An NSID is equivalent to a Logical Unit Number (LUN) in SCSI world, and represents the identifier of a namespace (volume).
An NSID on a PowerStore is unique across an NVMe subsystem.
On SCSI, there is a differentiation between Array LUN ID (ALU) and Host LUN ID (HLU). For example, A SCSI LUN on the array may be with an ALU of 10 while to a host it may have an HLU of 250. In addition, a LUN created on one appliance can have the same ALU and HLU as another LUN created on a different appliance from the same PowerStore cluster.
With PowerStore implementation of NVMe-oF, since an NVMe subsystem is a PowerStore cluster, a namespace (LU) can have a single NSID (for example, a volume that is created with NSID10 has the same ID across all appliances, internally on the array (ALU) and externally to the hosts (HLU). With NVMe-oF, there is no distinction between HLU and ALU.
Identify PowerStore NVMe WWN using PowerStore Manager
Navigate to (Hardware > Appliance > Ports > Fibre Channel), and find the corresponding SCSI WWN and NVMe for each target port.
Use NVMe WWN when zoning a target port.

Alternatively use pstcli fc_port show command to locate the WWPN of FC ports on PowerStore.
Add NVMe Host to PowerStore using PowerStore Manager: Step by Step
Step 1
Login to the PowerStore Manager.
Navigate to Compute > Hosts Information.
Click on Add Host

Step 2
Enter the information as stated below and click next.
Host Friendly Name: Enter the hostname
Operation System: Select the OS installed on the host.
Description: Optional
Step 3
Select the Initiator Type as NVMe as we are adding an NVMe Host.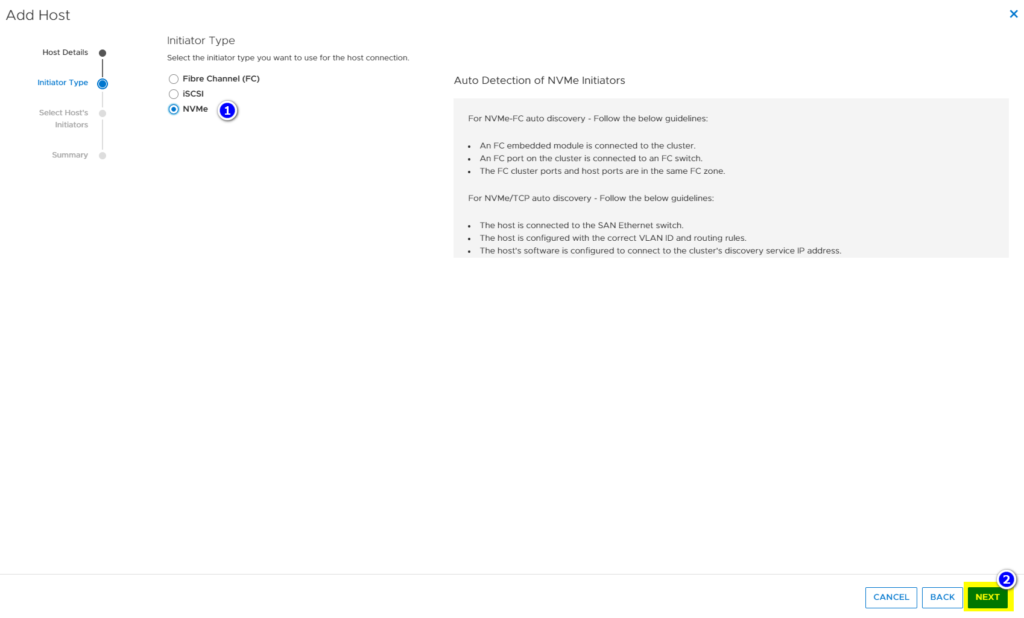 Step 4
Select the auto-discovered NVMe WWN and click on next.
Step 5
Verify the Information displayed on the screen.
Click Add Host.
Add Host to PowerStore: Step by Step Video