In this article, we will have a look at how to create a snapshot of a volume on Dell PowerStore using PowerStore Manager. Snapshots are read-only point-in-time copies of a volume, volume group, virtual machine, or file system.
You can create an ad-hoc snapshot at any time or automate the creation of a snapshot by creating a snapshot rule and adding it to the protection policy. PowerStore can then use this snapshot rule and automatically create snapshots without any user intervention.
This snapshot can then be used to recover any point-in-time copy of the data.
It is not possible to map a read-only snapshot. If you would like to use the snapshot then you can create a thin clone of a snapshot and map it to the host. A thin clone is a write-enabled, space-efficient copy of the snapshot.
Create a Snapshot of a Volume on Dell PowerStore Using PowerStore Manager: Step by Step
Step 1
Login to PowerStore Manager
Navigate to Storage >> Volumes

Step 2
Select the Volume to create a snapshot and Click on Protect >> Create Snapshot

Step 3
In the slide-out popup enter the below-mentioned information:
Unique Name for the snapshot
Local Retention Policy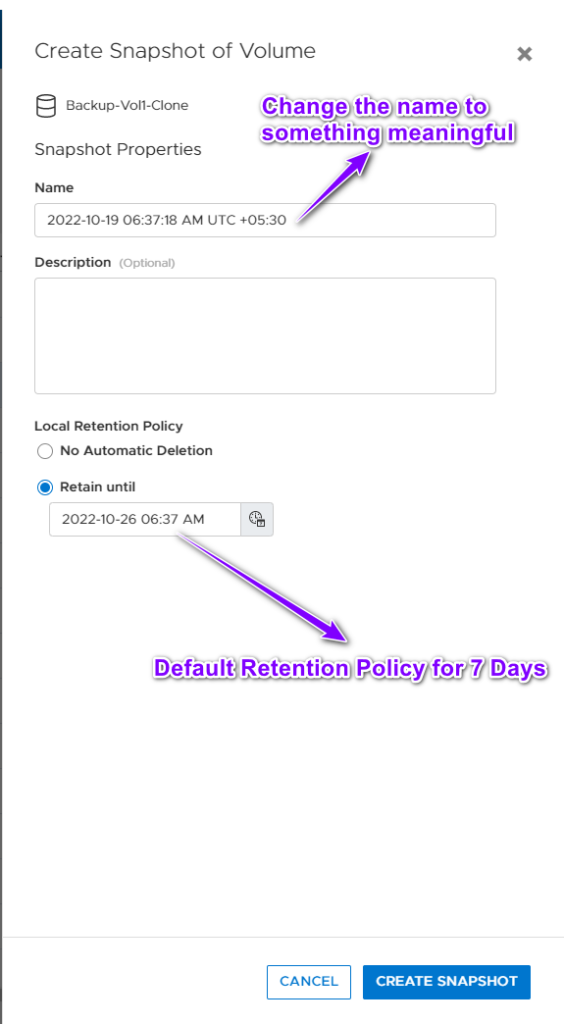 Note: Default retention policy is 7 Days
Step 4
Verify Snapshot Creation by clicking on Volume Details as shown in the image below.
or
Navigate to Volume Properties Page by clicking on the volume (HyperLink) for which the snapshot was just created "Backup-Vol1-Clone"
Click on the Protection Tab
Verify the created snapshot
Create Snapshot on PowerStore: Video